MOSA ORGANIC CERTIFICATE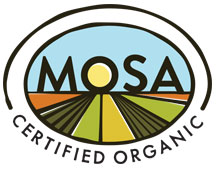 MOSA has verified through inspection and review that

Premier Co-op (Swiggum Rd Mill)
203 Swiggum Rd, Westby, WI 54667

is certified organic under the US National Organic Program (7 CFR Part 205) for the following categories:
Handler
See next page for list of products.
Once certified, a production or handling operation's organic certification continues in effect until surrendered, suspended or revoked (§205.404(c).)
MOSA clients must update Organic System Plans annually by April 1.
All current certificates are available on MOSA's website: www.mosaorganic.org
Certification #:  

10596

 

Effective Date:  

02/05/2018
MOSA Certification Representative:
 

Stephanie Leahy

 

Date Issued:  

02/21/2019



P.O. Box

821 , 122

W. Jefferson Street , Viroqua , Wisconsin

54665




mosa@mosaorganic.org

■

608.637.2526 |

phone

■

608.637.7032 |

fax

MOSA ORGANIC CERTIFICATE PAGE 2
Premier Co-op (Swiggum Rd Mill)
Certified Organic Products/ Services:
Private label handling of feed and mineral mixes. Receiving, mixing, rolling, bagging, pelleting, crumbling and delivering organic grains and feed blends 
"Organic": Single ingredient products:
alfalfa pellets, alfalfa meal, barley, corn, corn rolled, flax meal, flax seed, molasses, oats, peas, soybean meal, soybeans roasted, soy oil,
wheat, wheat midds;
Mineral Blends (with organic ingredients):
Aloe Pellets, 2:1 Mineral with Regano, 1.5:1 Mineral for Organic Dairy, 3:1 Mineral for Organic Dairy, Benjamin Lactation Mineral for Organic Dairy, Landsverk Dairy Mineral, Neil Klaphake Custom Mineral, Nick Klaphake Custom Mineral,  NS Dry Cow Mineral for Organic Dairy, Schneider Dry Cow Mineral for Organic Dairies, Schneider Lactation Mineral, Premier 2:1, Premier 1:1, Dairy Supreme 1:1, HiCal Supreme 2:1, Dry Cow Supreme Premix, Goat Mineral, "O" AF Calf Concentrate 30%, "O" AF 30 Goat Conc. Pellet, Sheep Mineral, Dairy Micro Premix, Fine Feathered Premix, Buttermilk Swine Premix, Sow Premix, Swine G/F Premix, Selen E Premix, Ellinghuysen Goat Mineral, Essential Solutions Yellow 2:1, Essential Solutions Green 1:1, Lactation Mineral Pellet, Free Choice Mineral, Dr. Paul's Aloe Pellets, Dairy Micro Premix 2X, Hog Grow/Finish Premix, Poultry Builder, Organic Builder NMTH;
Custom Feed Blends (for individual producers, using organic agricultural and approved nonagricultural ingredients)
Dairy Feed Blends:
(Bovine) Direct Fed Microbial, 14% Dairy, 16% Calf Starter, 18% Calf Starter, 20% Calf Starter, 22% Calf Starter, 26% Calf, Grow Pellet, 35% Dairy, Dry Prep, Natural Prairie 12.5% Calf Grower, Natural Prairie 26% Calf Pellet, Natural Prairie Calf Pellet, 35% Calf Pellet, Organic Pride 16% Lactation Blend, BioBaby Base Pellet, BioBaby Calf Starter, BioBaby Mixer Pellet, TDS Premium Organic Calf Supplement;
Poultry Feed Blends:
14% Layer, 16% Layer, 16% No Soy Layer, 16% Layer Pellets, 18% Layer, 18% No Soy Layer, 18% No, Soy Layer Pellets, 19% Fine Finish Broiler Feed, 21% Start N Grow Broiler Feed, 24% Turkey Grower, 16% Chick Grower, 19% Chick Starter, Broiler Base Mix I (Welsh), Broiler
Base Mix II (Welsh), Scratch Grain; 
Feed Blends:
18% Rabbit Pellet, 20% Lamb Starter, 16% Goat, 19% Goat Starter, No Soy Goat Ration, 16% Hog, 12% Complete Horse, Cricket Chow, RCS Organic Kid Starter/Grower 18%, Organic RCS Goat Concentrate 32%.
Certification #:  

10596

 

Effective Date:  

02/05/2018
MOSA Certification Representative:
 

Stephanie Leahy

 

Date Issued:  

02/21/2019



P.O. Box

821 , 122

W. Jefferson Street , Viroqua , Wisconsin

54665




mosa@mosaorganic.org

■

608.637.2526 |

phone

■

608.637.7032 |

fax